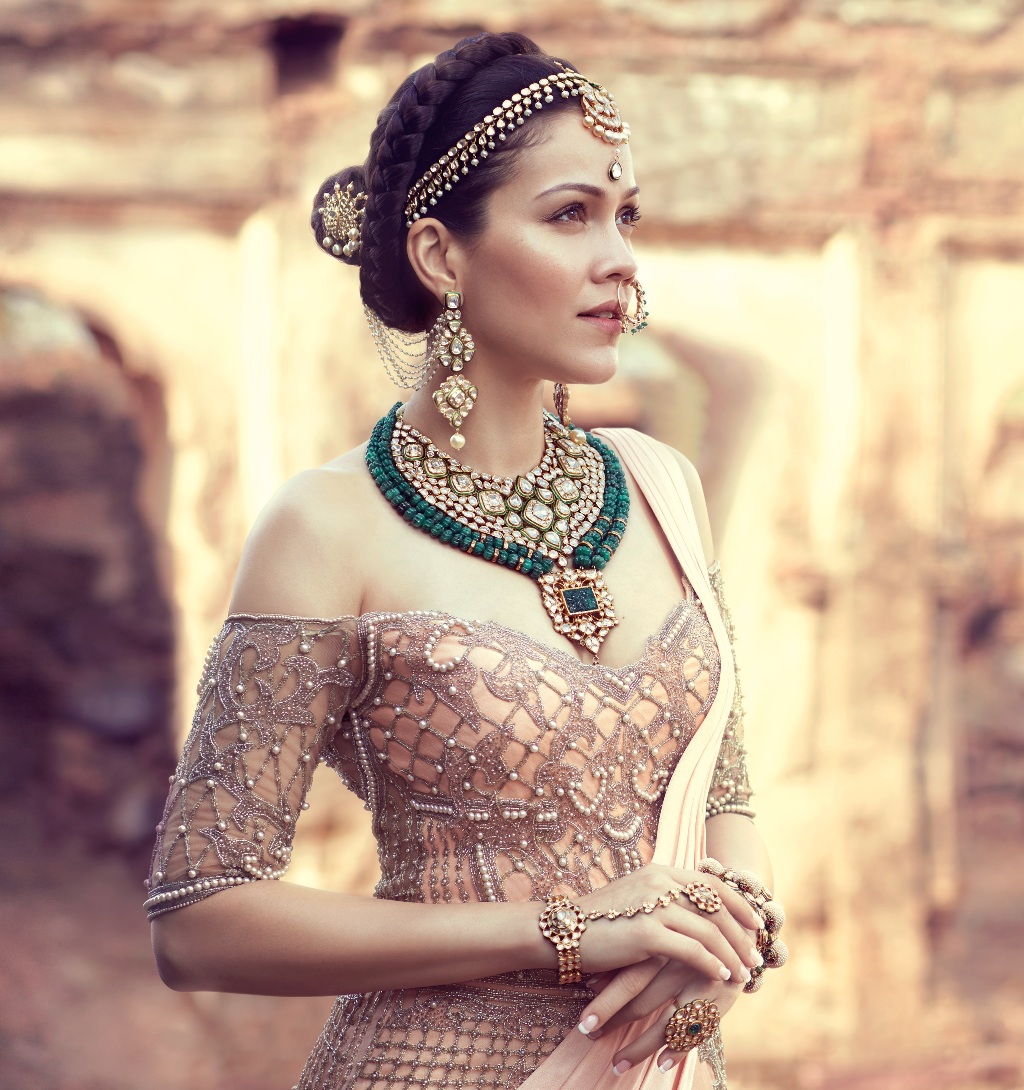 Kundan Bridal Necklace Sets Collection
For any bride, jewelry is the second most important thing after her outfit that she wears on her wedding day. Every bride lookout for the best piece of jewelry that she can pair with her bridal lehenga, to look stunning on the day of her wedding.
Everyone knows that there are so many types of "Bridal Jewellery" available in the market like "Diamond wedding set", "Gold wedding set", "Antique gold wedding set" etc. But in all these types of wedding set "Kundan wedding sets" are my favorite one as it easily matches with any type of bridal outfit and also there are so many options related to Kundan jewelry. So, If you have not started shopping for your jewelry then I can suggest you some of the Indian Kundan wedding jewelry sets that you gonna love it.
There are some important things which should be taken care when you choose your wedding necklace.
NECKLACES ACCORDING TO YOUR BUST SIZE
Smaller bust: Go for longer and chunkier wedding necklaces. Because by wearing these type of necklaces, your bust area appears more fuller and attractive 😉
Larger bust: A smaller wedding necklace with 1-2 layers works best. Because by wearing these type of necklaces, your bust area doesn't appear large.
I am categorizing Kundan Necklace into two different categories. So, that you can choose your favorite one easily.
BROAD NECKLINE KUNDAN NECKLACES
If you want a simple look or you don't want to carry multiple necklaces on your wedding then this is the best necklace type which gonna suits you a lot. Here, you can wear a single piece of "Heavy Broad Kundan Necklace" or you can wear maximum 2 "Broad Kundan Necklace" to cover your maximum neck area. And yes If you are wearing these types of necklace then one thing that you should remember that try to choose necklaces that should not fall on your entire bust area or it always finishes just above your bust area.
Below I am presenting some of the pictures so that you can get an idea that how amazing "Broad Neckline Kundan Necklace" looks.
FALL NECK KUNDAN NECKLACE

This is my favorite style where you can experiment a lot. One thing which is most important that you can wear "n numbers" of necklaces here. Always try to choose at least 2 necklaces where the first necklace should be broad(slightly heavier) and always gets finish above your cleavage area and the second necklace is comparative less heavy & broader in nature, and it gonna fall onto your complete bust area.
Below I am presenting some of the photos so that it can give you an idea that how amazing "Fall Neckline Kundan Necklace" looks.
 TUTORIAL RELATED TO "KUNDAN SETS"
Still, if you don't get the proper idea about Kundan sets then you can see some videos listed below from where I am sure you can find out your best Kundan sets.
READY TO PURCHASE !!
https://www.snapdeal.com/product/dilan-jewels-alloy-gold-plating/672438753660
http://www.amazon.in/VVS-Jewellers-Traditional-Bollywood-Karvacauth/dp/B01MEE4X4T
http://www.amazon.in/Shingar-jewellery-jewels-necklace-4643-acs/dp/B010HUDP54
http://www.amazon.in/Mjjewel-Royal-kundan-Wedding-matching/dp/B01LFT23MW
https://www.snapdeal.com/product/krishna-world-alloy-gold-plating/667993783515